1) How can I come to Samos?
Samos can be reached either by air or sea.
Ferry:
The island has three major ferry ports: Pythagorio, Karlovassi and Vathi.
Samos is easily reached by ferry from Pireaus, the port of Athens. The trip takes about 8 to 14 hours (depending on the connection) and ferries usually stop at both Karlovassi and Vathi. There are less frequent connections to Chios, Lesvos, and the islands of the Dodecanese which you can reach with high-speed boats in the summer months.
There are daily boats to Kusadasi, Turkey where you can visit the ancient Greek city of Ephesus, one of the world's most incredible archaeological sites. Tickets can be bought from various travel agencies. A passport is obligatory. An early reservation is essential to ensure there is a place for you especially during the summer. Most of the ferries have only 120 tickets available. The trip takes about 1:45 hours.
https://ferries.gtp.gr/greek-ferries/ferry-ports
Airport:
Samos International Airport "Aristarchos" is lying 4 km west of the village of Pythagorion. It has daily connections to many countries. However, the easiest way to reach Samos by air is to fly first to Athens and then catch a connecting flight to Samos. There are 3 daily flights connecting the island with Athens and 2 weekly flights with Thessaloniki (in northern Greece).
2) How can I get around?
You can use the local busses, take a taxi or rent a car.
Buses:
The Samos island has a good bus service which serves various villages and beaches until 8 pm. From the capital of Samos 13 daily busses are going to Kokkari and Pythagorio, 8 to Agios Konstantinos, 7 to Karlovassi, 6 to the Ireon, 5 to Mytilini and 2 to Ormos Marathokampou, Avlakia and Votsalakia, 6 daily buses are departing from Pythagorio to Ireon.
From Karlovassi daily busses are going to Agioi Theodori, Pirgos, Koumandarei, Vathy, Pythagorio, Hora, Ormos Marathokampou, Votsalakia, Agia Kyriaki and Drakei.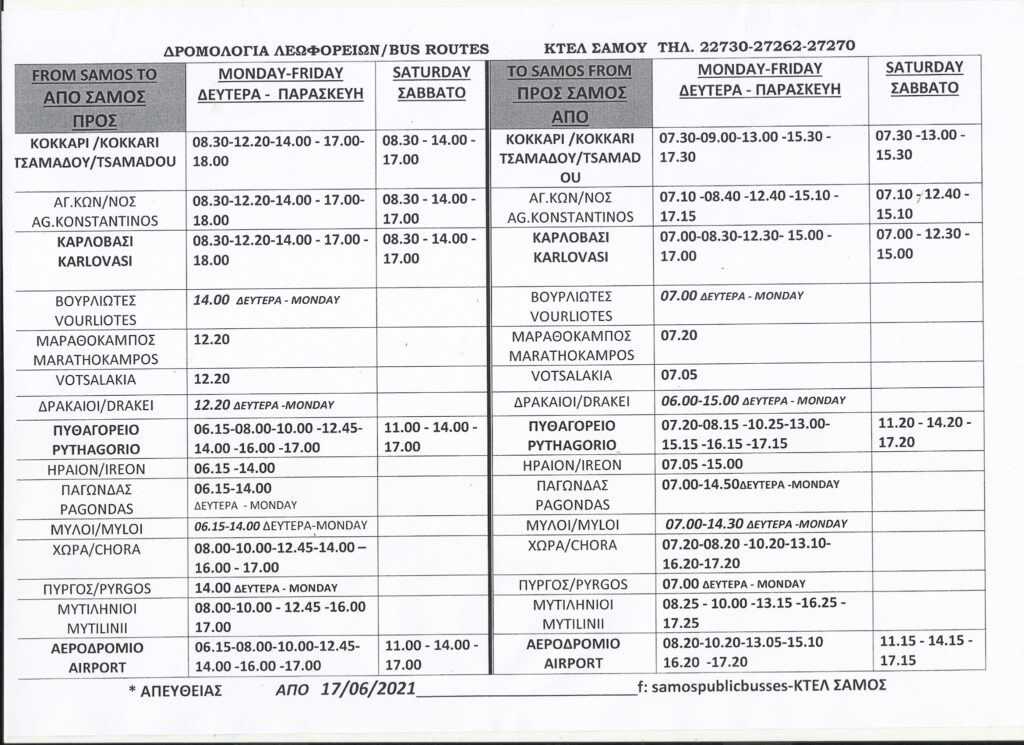 3) How can I reach the venues of the event?
We recommend that you rent a car or take a taxi.
In the port of Samos you can find a price-list of the taxis fares for the several destinations on the island. The prices range from 5 to 40 Euro.
We have organised busses to bring you from Pythagorio to the theater in Vathy and Navagos Beach.
4) Where can I rent a car?
Numerous car and motorcycle rental offices are available in Samos. Several of the large hotels arrange motorcycle and car rentals. You will find all international car rental agencies as well as many local car rentals. We suggest to rent your car at a local agency. Below you find some recommendations:
Samos Destination: using the code "Tango Festival" you will get 15% discount on any rate
5) Do I need a partner to register?
No, you do noτ need a partner.